What is a salesforce Health check?
The Salesforce Health Check is a tool that rates the overall security health of your Org, allowing users to identify vulnerabilities and monitor the effectiveness of their security settings — either against Salesforce's out-of-the-box standard or a custom baseline. The tool scans all your organization's settings and notifies you of any security risks that might be affecting the performance or well-being of your Org. Then, it provides a score based on overall system health.
How Is the Health Check Score Calculated?
The Health Check score is calculated by a proprietary formula that measures how well your security settings meet either the Salesforce Baseline Standard or your selected custom baseline. Settings that meet or exceed compliance raise your score, and settings at risk lower your score.
There are four risk categories: High-Risk, Medium-Risk, Low-Risk, Informational.
The risk categories affect your Health Check score, with High-Risk settings counting the most, Low-Risk settings counting the least, and Medium-Risk settings in the middle. Settings in the Informational category do not factor into your Health Check score.
Why is a health check important?
Quarterly Salesforce Health Checks
Making regular checks on your Salesforce org enables Admins to keep up-to-date with small-scale changes and wrest back control of the system. This will encourage user adoption, improve data security, and keep the org scalable
How does the Salesforce Health Check work?
| | |
| --- | --- |
| TOTAL SCORE | RECOMMEND |
| 0%–33% | Remediate high risks immediately |
| 34%–66% | Remediate high risks in the short term and medium risks in the long term. |
| 67%–100% | Review Health Check periodically to remediate risks |
Health Check Score
From setup, enter Health check in Quick find box select Health check.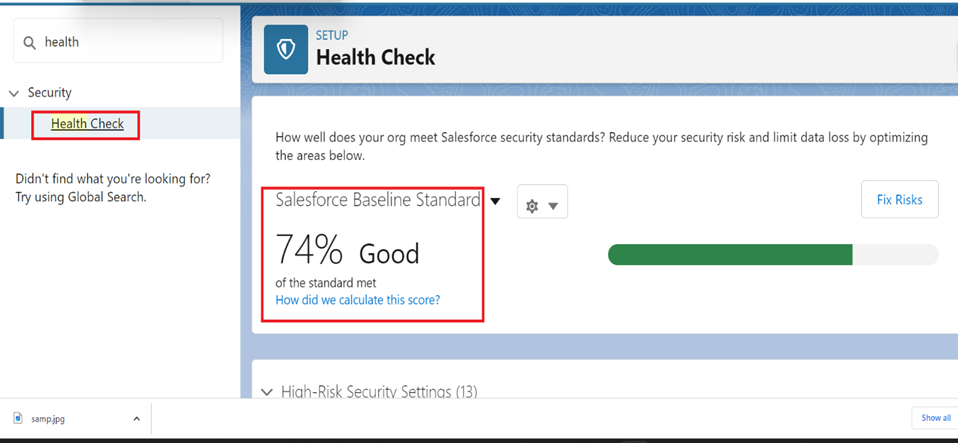 You can view, the Salesforce baseline standard percentage.
From status and settings, you can see Require HttpOnly attribute.
Click edit, and enable the checkbox from session settings.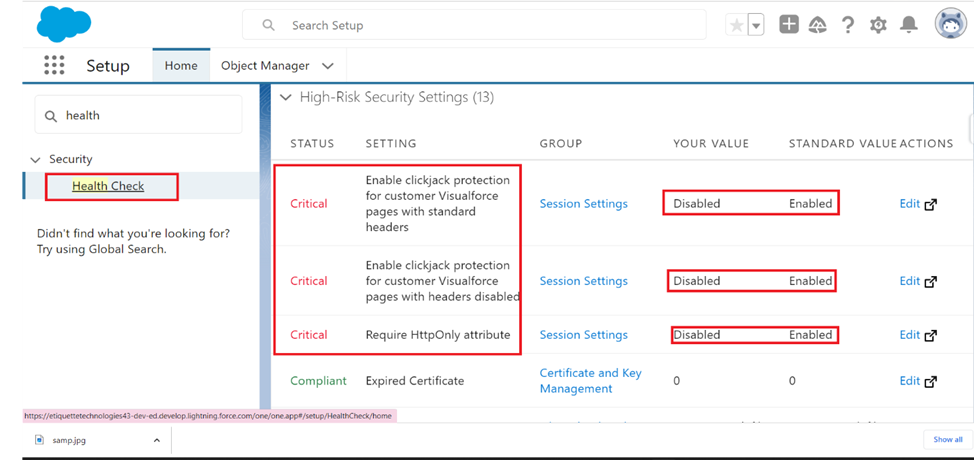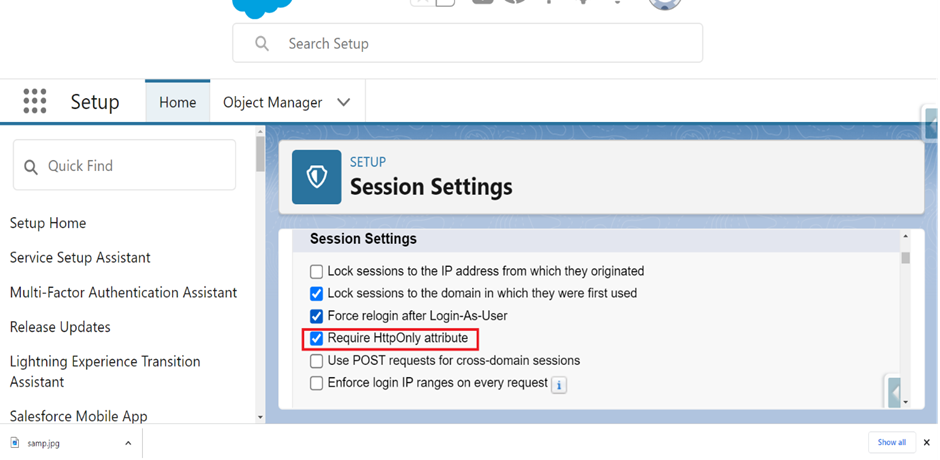 After resolving the issue, Salesforce baseline standard percentage will be updated.
Benefits of salesforce Health check:
Encourage user adoption.
Improve data security.
Keep the org scalable.
Benchmark and monitor your org.
Keep track of changing security needs.
Fix system errors for overall system performance.
Maintain compliance with SOX, HIPAA and related standards.
Increase productivity across all departments. Streamline new deployments.